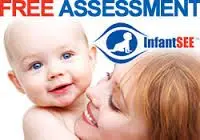 We are proud InfantSEE providers!
The InfantSEE Assessment
The InfantSEE® assessment offers early detection of potential eye and vision problems as a complement to the eye screening conducted in a pediatric well-care visit. A comprehensive assessment between the ages of 6 months and 12 months is recommended to determine healthy development of vision. Risk factors for many eye conditions, including amblyopia (often referred to as lazy eye), muscle imbalances, and some ocular diseases, have no signs or symptoms and may not be detected in a well-baby check-up. Such pediatrician visits include care and services performed by all personnel and last an average of 22.1 minutes, which is ample time for screening and detecting potential large-scope health problems. However, significant risk factors for eye and vision disorders are not detectable by base-level infant eye screening, and even early retinoblastoma, the seventh most common pediatric cancer, is detected more than 80 percent of the time outside the doctor's office by a family member or friend. This assessment is conducted at NO CHARGE.

Why do you suggest getting the eyes tested at 6 months?
Clinical experience and research have shown that at 6 months, the average child has reached a number of critical developmental milestones, making this an appropriate age for the first eye and vision assessment. Many visual abilities are fully functioning by the age of 6 months. Interference with development during this very critical phase may lead to serious lifelong effects on vision. Successful treatment can be obtained more quickly with early intervention.
The good news about a trip to the optometrist is that there are no shots or cold stethoscopes. While the doctor will be shining a light in the baby's eyes, and may spray a mist on eyelids or use eye drops to dilate the baby's pupils, many infants seem to enjoy the "games" they play as part of the professional assessment.

Babies can't speak. How do you test their vision?
Optometrists have the clinical background and expertise necessary to provide eye and vision assessments for any non-verbal patients, including infants. The optometrist is looking for answers to the same questions you are:
Does the patient history suggest a problem?
Can the baby see?
Are the eyes straight?
Are the eyes healthy?
Is intervention necessary?

Why should I take my baby to an InfantSEE provider?
An InfantSEE® assessment between six and 12 months of age is recommended to determine if an infant is at risk for eye or vision disorders. Since many eye problems arise from conditions that can be identified by an eye doctor in the infant's first year of life, a parent can give an infant a great gift by seeking an InfantSEE assessment in addition to the wellness evaluation of the eyes that is done by a pediatrician or family practice doctor.
One in every 10 children is at risk from undiagnosed eye and vision problems, yet only 13 percent of mothers with children younger than 2 years of age said they had taken their babies to see an eye and vision care professional for a regular check-up or well-care visit. Moreover, many children at risk for eye and vision problems are not being identified at an early age, when many of those problems might be prevented or more easily corrected. Some 3.9 million children were born in 2013, according to the U.S. Department of Health and Human Services. In approximately 4 percent, strabismus will develop, and amblyopia will develop in 3 percent-this equates to as many as 200,000 infants born each year who are at risk for serious eye and vision problems.